What are the advantages of using recycled polyester scrim as a backing for decoration materials?
Recycled polyes

ter s

crim

are currently popular eco-friendly products. Recycled fabrics have the advantages of abrasion resistance, moisture absorption, and good air permeability. Widely used in all kinds of clothing, luggage, home textiles, toys, furniture, building materials, laminates, decoration materials, etc.
In terms of decoration materials, recycled polyester scrim are used as the backing of wallcoverings, which has the features of good sound absorption, ventilation, moisture absorption, and environmental protection.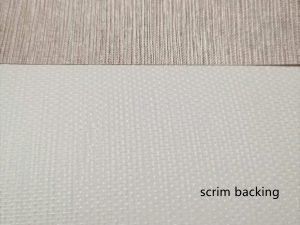 wallcovering backed by recycled polyester fabric
Where does the conventional polyester yarn come from?
Usually, the polyester yarn used in our fabrics, namely polyester fiber or polyester, is essentially a petrochemical product. It is a product refined from petroleum. Petrochemical products cause large amount of carbon emissions in the production and consumption process.
What is the method of producing recycled polyester fiber?
One way is to regenerate polyester yarn by chemical regeneration. The used polyester products and waste are to get polyester fibers of the same composition.
Another method is to use physical regeneration. Recycled plastics such as cola bottles are made into fragments, pelletized into pieces, then spun into recycled polyester yarn through a spinning process.
Both of these methods can reuse various non-degradable organic polymers that enter the consumption cycle, so to achieve the effects of energy saving, emission reduction, and pollution reduction.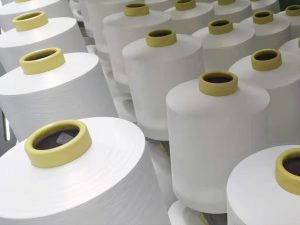 recycled polyester fiber
What are the features of the recycled polyester scrim?
1. The recycled polyester fabrics used for wallcoverings adopt a physical slicing regeneration method.
2. The raw materials have GRS and TEKO-TEX100 certificates.
3. The fabrics have passed the Prop65 standard, which are free of toxic substances such as heavy metals and phthalates.
4. Wallcoverings with the fabrics passed the ASTM E84 as "class A" rating.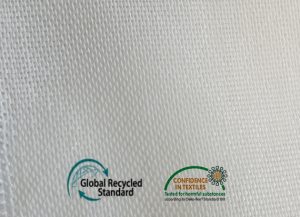 100% recycled polyester fabric